Since 1988, Fentress Incorporated has provided courthouse consulting services to federal, state, and local courts. We have worked with nearly 1,000 court facilities, encompassing every U.S. state and several territories. This experience has provided Fentress with an in-depth understanding of how proper facilities can enhance court operations.
Our service highlights include:
Courthouse Analytics – Fentress maintains a library of courthouse performance metrics that objectively gauge how well a facility supports court operations. These metrics evaluate each courthouse in areas such as functionality, security, condition, and technology. Customized metrics can be added in other areas. Tailored to each courthouse, our metrics collectively assess the opportunities and constraints, enabling our architects to determine the optimal use of space and to identify projects to improve court operations.
Strategic Needs Assessments – Fentress' needs assessment process is a long-range, strategic approach to facility planning. First, we forecast court workload into the future; then, we use the workload forecast to project the need for additional judges and court personnel. Our forecasting methods are rigorous and have been favorably reviewed by the National Center for State Courts, U.S. Government Accountability Office, and Ernst & Young. The housing needs for future judges and staff can then be incorporated into our architects' programming and space planning efforts.
Design Standards – Fentress maintains a library of design standards for all types of court facilities. Our architects draw on this information to develop space programs and housing plans. The standards can be customized across a range of standards (e.g., large to cost-conscious standards) and tailored to incorporate alternative workspace arrangements (e.g., hoteling, telecommuting, etc.) The standards encompass courtrooms and chambers; court support spaces; circulation for judges, prisoners, jurors, and the public; office areas for court and related components; and security requirements.
Courthouse Calculators – Fentress has developed multiple customized IT applications that automatically generate detailed housing needs based on design standards and the number of personnel. After generating the list of housing needs, our Courthouse Calculators can provide benchmark project cost estimates for construction, tenant property, and annual rent (where applicable). These calculators save time by providing detailed housing needs for different scenarios or sets of varying assumptions, all at the push of a button.
Studies and White Papers – The breadth and depth of Fentress' court knowledge enables us to consult on a wide range of court-specific issues and conduct policy studies. These include: analyzing demographic, caseload, and judicial trends; assessing real property ownership options for courts; and assessing the impact of courtroom sharing policies. Our professional reports and accompanying recommendations have been used by hundreds of courts to quantify policy impacts and support critical decisions.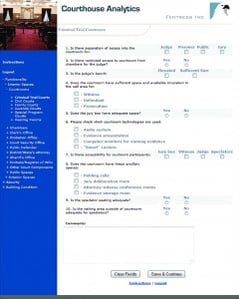 Courthouse Analytics
Collection of over 300 performance metrics used to evaluate courthouse space.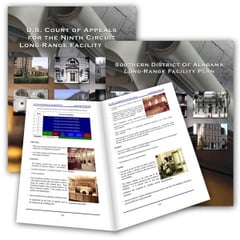 Studies and White Papers
Fentress performs facility studies and related services to improve courthouse space.
Fentress has performed more court space planning and programming work than any firm in the country. Our experience ranges from single-courtroom rural courthouses to large, multi-tenant metropolitan facilities with 75+ courtrooms. Our goal is always the same: to plan well–functioning courthouses that enhance the administration of justice.